Welcome to F&L!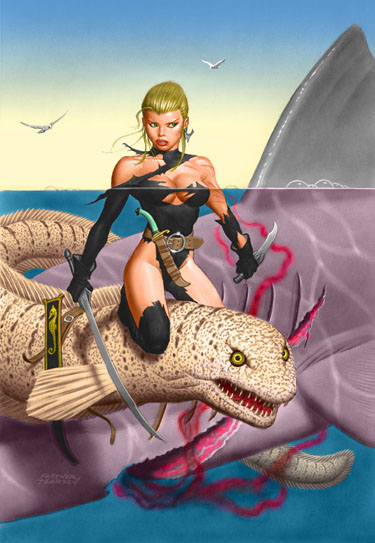 How are you getting to San Diego? Rich is hitching a ride inside
a giant albino eel! (No additional charge for checked baggage.)


9/5/10

--

Note: this is an archive of the old F&L home page, which had, over time, become way more unwieldy than it should have, and also too much like a second news page. It was starting to confuse us, if not you.

The entries here go all the way back to the beginning of our online existence, so feel free to read on and find out how laughably wrong we were about everything!

7/20/10 -- Just a brief (and pretty much pointless, since you must have decided months ago whether to make this most Malthusian of pilgrimages) public service announcement:





When you've had just about as much waiting in line for that

Music Inspired by Kick-Ass

cd as you can stand, head on over to the single most easily accessible (take one step inside Entrance "C" and turn to your right) booth at the entire con: SQP, Inc., where you'll find Rich once again discussing the meaning of life with publishing Prometheuses Sal and Bob, showing off F&L originals, and drawing his cold black heart out for your amusement and edification.

We're tickled pink (or in Rich's case, less orangey) to formally debut at Comic-Con 2010 our latest collection of coquettes and homunculi, F&L's Beauties & Beasts, a unique melange of all new paintings and rarely seen (and completely transformed by Steve; see Eela) portfolio imagery.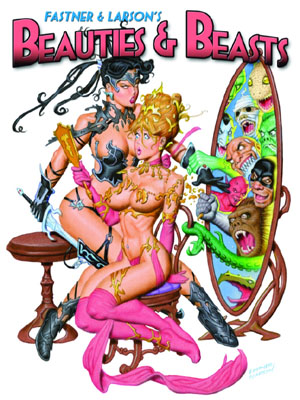 Beauties & Beasts is a joint project with the Science Fiction Book Club, which is presenting an exclusive, available-only-from-them hardcover edition. As a one time, convention only offer, if you bring your copy of the Beauties & Beasts hardcover along and trundle it over to the SQP booth, Rich will add a cheeky original sketch to the front endpaper at no additional charge.


We're also pleased (and a little surprised, given the tendency of our brittle bones to snap under an excessive workload) to announce the imminent appearance of a second F&L production yet this year -- a compendium in the hallowed manner of the Bed & Bondage and Haunted House of Lingerie collections, which should appeal not only to fans of toothsome victimettes, but also those wildly popular cannibal cutups...

the living dead

: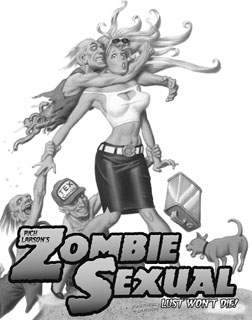 Hot & bothered and cold & composty, the decaying denizens of Rich Larson's ZombieSexual love a toothsome wench for her brains, all right -- and for so very much more as well...if she'd only stand still long enough for them to work their rapidly decomposing magic on her.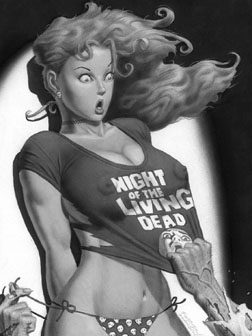 Our definitely dead (and yet somehow also excessively romantic) friends are very nearly ready to crumble, and we'll let you know as soon as ZombieSexual is available to disgust a girlfriend near you.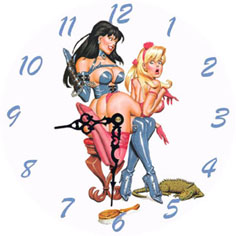 3/10/10 -- What's the deal with the clock, you may be asking yourselves. Is it that damn "spring forward" thing already? Not as far as we know (although since we work at night like crazed ghouls, and the passage of one season into the next is pretty much meaningless to us, it very well may be.)

No, the clock merely sets the scene for us to shout, Buffalo-Bob-like, "Hey, kids, what time is it?" And for you to shout back, "It's time for you to take a crack at separating us from our cash, probably!"

And so it is that we officially start an amazingly short countdown to

Fastner & Larson's Beauties & Beasts

, our latest collection of all-new and dramatically reconfigured imagery. Fans of both our newer, more Tricks & Treatish material, as well as our older, more barbarian babeish stuff will find much to amuse and/or appall them between its glossy pages and sturdy hardcover. To say nothing of impetuous little dragons and a fair amount of not much in the way of clothing.

Bs&Bs, if our publishers haven't been smoking something, will be winging your way

in just a

few short months

. More info and a preview can be found on our News page.


We've added a fifth Gallery page, on which we have a bit more to say about the Ouch Clock.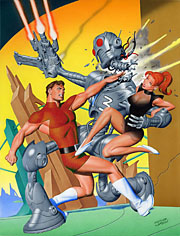 11/15/09 -- Even if you don't find the robots of North Am (circa 4000AD) any more or less threatening than your average espresso machine, you have to appreciate the advanced technology that produced Leeja Clane's little black dress. We're not sure what principles of optics are at play there, but we're grateful to Russ Manning for creating one of sexier female character in 60s comics. (And for sneaking her past the parent-pleasers at Gold Key.)


If you shift your gaze from Ms. Clane directly to the left, you'll notice we've added a new F&L category, Comics.

No, we're not selling our collections (although we have a pile of credit default swaps we'd be willing to part with).

We've uploaded a few of our previously published comic stories in their entirety, so you can bathe your retinas in the kind of vibrant transmissive color that simply wasn't available upon perusing the original printed page.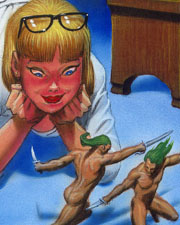 9/26/09 -- Forget H1N1 -- when is Washington going to address the crucial issue of female scientists shrinking guys down, dying their hair green, and making them fight to the death for their attention?


Have we got some stuff for you! A dozen new originals, two page of new prints and Pocket Pal 2, for starters! Details here!


In a couple of weeks, the grandstand at the Minnesota State Fairgrounds will be packed to the rafters with comics dealers, creators and fans for the 21st annual MCBA Fallcon Comic Book Celebration.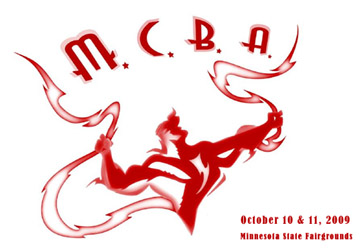 Scheduled to attend are Peter Bagge, Terry Beatty, Gerry Conway, Michael T. Gilbert, Gene Ha, Dan Jurgens, Angel Medina -- and many, many others we're too out of it to recognize by name!

You'll also thrill to an extensive art show, a costumed character parade, creator panels, auctions and a plethora of freebies and prizes. F&L will once again show up with originals, prints and published collections of their work, including the just released Pocket Pal 2. Bring stuff and get it signed by the rarely-seen Steve!

Admission for both days is $11, and children under 9 get in free. A good deal even here at the tail end of US economic hegemony!


Where would damsels be without icky monsters to menace them? Not in distress, that's for sure -- and where's the fun in that? (This isn't even a rhetorical question, gals -- especially you Women and Culture majors at UWisc Madison...)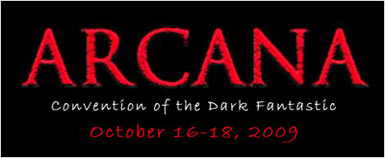 Serious and casual fans of Arkhamish horror convene in St. Paul every October to discuss and celebrate dark fiction, movies, TV and art -- and monstery things in general -- at Arcana, which can only be described as a

Convention of the Dark Fantastic

.

We like to pop in and hold forth on why barely dressed heroines in high heels are such an important part of the Cthulhuverse. And drink alcohol. The 39th edition features guest of honor Kim Harrison, best-selling author of the

Hollows

series. Miss this show at the peril of finding yourself haunted for an extended period of time!


For reasons that are as unimportant at this point as they are unavailable to our frontal cortexes, we utterly failed to flog F&L's presence at GenCon and Dragon*Con on these pages in the same shamelessly self-promoting manner as Comicon International and CONvergence. On the off-chance that you can travel back in time, here:





In a daring and ultimately brilliant gambit, Dragon*Con moved Comic & Pop Artist Alley this year from the cramped nether regions of the Atlanta Marriott to a huge, well-lit, ballroom in the Hyatt Regency, right next door to its equally expansive and justifiably famous D*C Art Show. (Mike Mignola manned his own table, for cat's sake!) Rich characterized the resulting reponse from D*C attendees as "crazed, multitudinous, and non-stop -- and I'm pretty sure that wasn't just the liquor talking."





For guys who've done very little in the way of game art (anybody remember Mutant? How about the immortal Tunnel Rats?) we invariably receive a warm welcome at Gencon. The Art Show, where artists have tables and display their work gallery style, is at once intimate, extermely varied and high quality, and thoroughly efficiently run by the same team year in and out. Also, the show handles sales for the artists. "I was surprised at how well it works", says Rich, "Also, they take plastic."





7/15/09 -- Here's a fast-approaching event you may not be aware of (if you're from the Andromeda System):





After a year's hiatus in well-intentioned but ultimately futile protest against the $4.75 convention center hot dog, Rich will again return next week to the Main Exhibit Hall at SDCC, and the gigantic fantasy babe mecca that is the SQP booth.

In a business full of guys who check into hotels carrying coffins lined with their native soil, Sal and Bob remain straight-shooting, prodigious profferers of new and newly rediscovered erotic art. And, as Bob puts it, "a staggering amount of nudity".

After you've sampled their wares (pack a lunch; this can take days), we cordially invite you to seek out the F&L corner, where Rich will be displaying new and classic orginals and prints, doing con sketches, and yelling at kids who set their mocha frappuccinos down on the art portfolios. Pull up your pants, you little hellspawn.





7/3/09 -- It' not often you'll find Steve and Rich both out without their keepers -- and in the same place, no less -- but it's happening this weekend at a little local sf/comics/fantasy/gaming/media/ convention called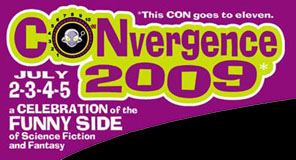 This is year eleven, they're up to four days, and the venue is nicely suited to varying degrees of gawking, rubbernecking and people-watching, all of which must be crammed in on the way to movies, panel discussions, how-tos and demos, author and artist events, snacks, a massive Masquerade/Costume Ball, the Dealer's Room, and a one-time-only, very special exclusive presentation by the nutballs from Cinematic Titanic.

There's also an Art Show, to which F&L have contributed pretty much from the beginning, and this year they're test driving a Comic Artist Alley, where Steve and Rich can be found from noon to 3 on Friday and Saturday.

On the extremely off chance you're both reading this and attending, we cordially invite you to visit us on the second level, directly across from the Dealer' Room, just beyond the giant Greek statue of CONvergence's mascot, Connie. We'll understand if you're distracted by bright and shiny objects -- that's pretty much the whole convention.





6/3/09 -- As Steve is fond of saying, any Mars painting where you only have to render two thark arms is a good Mars painting -- and if you can also get by with just one princess arm, life is truly sweet.

The economy may be tanking, but you'd never know it by our favorite cons. Comic-Con International is a month and a half away, and officially sold out. That's all four days, kids. All four host hotels for Dragon*Con sold out about three months ago. Oh, as Sal Q is fond of saying, the humanity. We'll be piloting our walkers into the mosh pit with the rest of you; just pass us over your heads if we get in the way. Here's our summer schedule.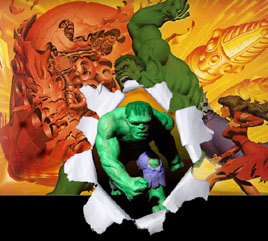 We forgot to mention last update that the image Steve's plasticine Hulk is bursting out of is a plate from our 1983 porfolio -- the SQP boys were not pleased with the horizontal format then, and continue to whine about it to this day, because it

screws up Bob's layouts

, and Bob is very teutonic about his layouts.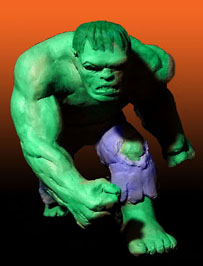 3/21/09 -- Spring is just around several corners here in the frozen tundra, and it's time to green things up with Steve's 3D rendition of the original Incredible Hulk -- appropriately sculpted from radioactive Chinese play-doh, photographed, and digitally colorized. Okay, we're old, but wouldn't the movies have been more interesting with this guy?

When we've officially had it with winter, we crawl, squinky and groundhog-like, into the pale Minnesota sunlight, where we stumble around until we find some comic conventions. Here are two you'll want to attend yourself, even though you'll likely run into us.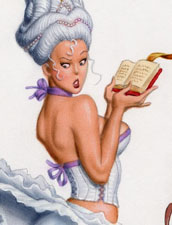 2/11/09 -- What have we got against cherubs, you ask? Nothing! We love the pink-cheeked little buttinskis, and they're frequent F&L bit players, as anyone familiar with Tricks & Treats (from which the above is taken) and the Bed & Bondage series well knows.

Ours tend to be royal screw-ups, but they mean well. Happy Valentine's Day!



1/24/09 -- Greetings again from the nation's icebox (unofficial state motto:

Go back upstairs and put on a hat

).

Remember how Jerry Lewis was big in France? Those crazy Gauls! While "big" may be an overstatement, our friends in Germany and the UK have made room for us of late in a number of their publications. The F&L News page details our recent/upcoming print appearances, across the water and here in the US.

Non-publishers often express their appreciation for our work in our favorite way -- by buying it -- so we've done some long overdue housekeeping on our Originals section, adding twelve new pieces and, for your amusement only, a second Originals Sold page.

Original art may be fine for the Warren Buffetts and the Carlos Slims, but for those who're keeping a little closer watch on their coins (and these days, that's pretty much everyone who doesn't play squash with Ben Bernanke) we're now officially offering our most recent books directly from F&L World HQ. Signed by both perpetrators, of course.

Thanks for looking, and keep warm...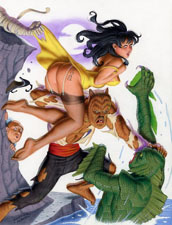 9/15/08 -- A quick glance at our

Speed Racer

calendar (70% off MSRP!) tells us there's just about enough time left in the season for one last blowout at monster beach. These gents had better calm down, however, because the girl's heart (and additional parts to be named later) belongs to Frankie.

(The party never stops in

Tricks & Treats

, the volume from which this image was taken. We'll be bringing some copies along on the F&L Fall Staycation Tour, however our publisher tells us it's close selling out in both soft- and hardcover, so grab yours -- and one for your most degenerate friend -- now!)

Update (9/23): And, just in time to make us look even more like we really don't know what we're talking about, Tricks & Treats has been reprinted, and is extremely available from the publisher!

By all that's holy, go to them right now and get that Holiday shopping out of the way!









5/8/08 -- Oh how we love 50's comic book covers, Ditko monsters, and 50's comic book covers with Ditko monsters on them.

No one does space fantasy like Ditko -- especially not us -- but the above, done several years ago, was meant as a respectful nod in the master's direction.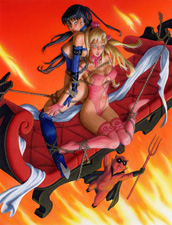 4/10/08 -- We don't know about you, but here on the frozen tundra, we're definitely ready for temperatures a little closer to those depicted in the cheery tableau above.

It's been several months since last we touched base, and you're entirely forgiven for supposing we'd somehow been ground into bankruptcy sausage by the subprime mortgage fun factory. Luckily, F&L World Headquarters is the only real property we're allowed within 50 feet of, and it's wholly owned by some party apparatchik's sister-in-law in Beijing (go Olympics!), so we dodged that bullet altogether.

What we've been doing, apart from wistfully reliving the days of $2.99/gal. gasoline, is finishing Bed & Bondage 2 (from which the above image is taken), our light-hearted sequel to the equally whimsical Bed & Bondage. If you think you might like the

idea

of bondage art, but aren't altogether certain you want to

go nuts

with it, B&B might just be your cup of disciplinary tea.



In a couple of weeks, we'll be heading over the river and through the woods to the St.Paul fairgrounds and Microcon, a longstanding local get-together brought to you by the same good folks who put on the wildly popular Fallcon, where we had a whee of a time in '07. Comic book creators will abound, as will myriad opportunities to divest yourself of such cash as you may have left after filling your car's gas tank (see above).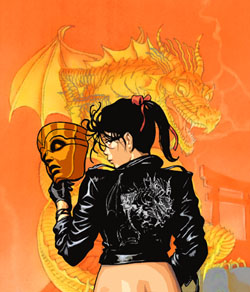 We've never been ones to just leave well enough alone, and thanks to Photoshop, we're able to screw around with our art in ways we could only dream about a few years ago. Case in point: the above image, a hodge-podge of disparate elements from hither and yon in the F&L compendium, thrown together and bounced around by Steve to achieve the sort of -- but not quite -- manga-ish look you see before you. Aren't zeros and ones just the best things? See the lead image on our News page for more Steve-related ingenuity.




10/31/07 -- It's our favorite time of the year, and our longstanding advice to trick or treating goblinettes of drinking age the world over remains as always: don't be afraid to push the envelope. If a forward-thinking trio of high school girls can dress up as Captain Underpants, what exactly is holding you back?




9/16/07 -- Back from Dragon*Con more or less with all of his parts (and thunderstruck by the volume of folk who stopped by the F&L table in Artist Alley), Rich continues to have nothing but accolades for this non-stop four-day wing-ding.

True, the Marriott was somewhat boarded up this year, the Hyatt seemed a trifle Germanic in its attempts at traffic control, and the hotel elevators were for the most part only slightly more efficient than floating yourself up or down via telekinesis.

In the main, however, this was multiple thousands of Joss Whedon's own, all shoehorned into three big boxes, bouncing off each other like highly compressed, costumed, subatomic particles. Rich has been on the periphery of this geekish maelstrom for several years running, and from his crotchety vantage point, it always seems as if all the wheels could fly off into the peanut gallery at any minute -- but they never do.

So, a big tip of the F&L virtual reality helmet to the infinitely patient, well-mannered attendees and inhumanly expert staff of D*C. Making this thing work year in and out puts certain other aspects of our society (*cough*Washington*cough*) to shame.


Thanks to some last-minute UPS voodoo by our publishers, we were able to debut our latest full-color compendium, Tricks & Treats, at D*C. The response was way good, as one might expect for a book full of interestingly clad females being offered at a con full of the same.

(Bed & Bondage also continued to be a crowd-pleaser, although we can't comment on any correlation between its content and the D*C demographic.)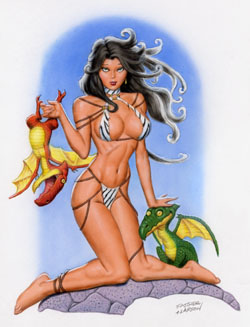 8/26/07 -- If you're of an otherworldly bent and you've got a costume and/or a camera, you're probably headed to Atlanta this weekend, where you'll meet up with about 40,000 like-minded sojourners at Dragon*Con 2007.
D*C is everything a fantasy/sf/comics/gaming convention should be, plus a continuous dress-up ball in Hell. Which everyone should experience at least once before, you know, the actual eternal version.
Rich will be there in his cranky old-guy get-up, brandishing his cane at the revelers and demanding they clear a path to the hotel bar.
No, you'll most likely find him in Artist's Alley, which is in the Hilton this year. Since he'll be almost continuously dehydrated and vaguely delirious, if you were to bring him, say, an ice-laden fountain beverage (Mello Yello would be sterling!), he'd probably draw you, or the character of your choice, at no additional charge.
7/22/07 -- As Rich prepares yet again to launch himself, Zero-Mostel-like, into the teeming mass of humanity that will be Comic-Con International (actually, he'll be sequestered in the SQP booth for his own safety and the safety of others; stop by and say hi if you make it that far), it's way past time for a couple of updates from F&L World HQ's Propaganda Wing.
The Sweet Cheeks project is wending its way via tramp steamer back from the printers in Hong Kong. SQP will keep you updated about its eventual availability.
(Rich should have copies at Dragon*Con, but since we underestimated how long it would take to finish the art by about a year and a half, it's probably in your best interest to ignore any time-related pronouncements we may make).
Since it would kill us three times not have new material wherever 100,000 people are milling around with cash in their hands, we'll be debuting a lovingly hand-crafted mini-sketchbook at San Diego. Color covers, lots of unseen material -- and at a size that almost guarantees you won't be poking somebody's eye out.
As mentioned previously2/20/07 -- There's a modicum of F&L-related news, and here it is..
We like to think of ourselves as the Original Cheesecake Factory, but our crack legal team has advised against any sort of formal declaration to that effect.
(Not too long ago, one of us was trying to describe what we do to a younger adult, used the phrase "cheesecake art", and got the 6,000 mile stare. Stop us if we start reminiscing about whale oil lamps and the Great Tulip Market Crash.)
Speaking of litigation, we hope not to be threatened with any by the large local corporation for whom we originally did the above image (sans cheekettes, of course.)
It seems just wrong to say we're so close to finishing Sweet Cheeks we can "taste it", or even that we pretty much have it "in the can".
But we're very nearly done on "our end".
Soon the project will be in the expert hands of Sal & Bob at SQP, and God. The former get top billing because they sign the checks.
If the stars align, look for a release within months, instead of years.
Most of the world, we realize, experiences the internet via reasonably current versions of IE or Firefox or Safari, browsers in which the F&L online happening is more or less as it should be (more on that in a moment).
But those of you who happen to use -- oh, we don't know -- Netscape 4.7, say, can't help but notice that our pages currently display like they were stuffed in a cereal box and kicked down the stairs.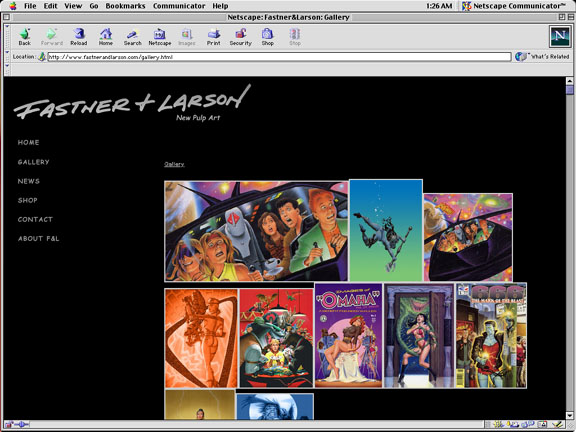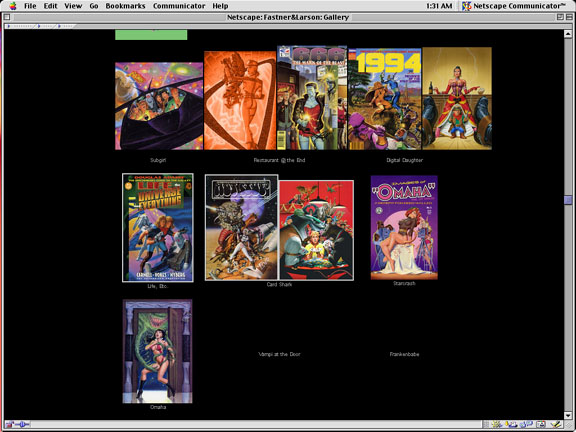 There may only be four of you to whom this applies, but we want you to know why that is.

Here at F&L World Headquarters, where computers are still that new-fangled tool of Satan, Netscape met our browsing needs slowly but more or less surely on a series of elderly Macs that we refused to let die. When we started the website, we assumed that if our Pagemill-generated pages looked jake in it and in Explorer, we'd have most of our 350 visitors covered.

Eventually we fell into some slightly more contemporary hardware, including (steady yourselves, art-types) a Dell tower.

(Steve has always been a pc guy. He believes the art looks better on them. In the unexalted fiduciary landscape F&L finds itself, at least, Rich has to agree with him.)

Browsing image-heavy sites as we tend to do was never a walk in the park with your best girl, and over time, it was becoming increasingly unpleasant in Netscape and Explorer. We started using Firefox on the pc, and it was an improvement.

Eventually, the New Browser Reality made its presence totally felt, yea, even unto doddering air-wasters such as ourselves, and it occurred to us we'd better see how our pages looked in Opera, Camino, et al.

As it turned out, a couple of things that displayed fine in N and E were now a little f'd: the occasional image was out of place; a font size was off here and there. Nothing horrific, but kind of like a bank with hand-lettered signage, credibility-wise.

We assumed the problem was with Pagemill, since, first, it's never our fault, and second, it was dated even when we started using it, and was now being forced to peer into the future and generate workable code for browsers several millenia (in computer time) newer than itself.

So we fumbled around hilariously for three or so weeks, (blindfolded howler monkeys couldn't have been any less efficient) reworking all our pages with a more contemporary web page editor

called

Nvu

.

(Nvu is free, full-featured and French -- the way we like our women. Google it for the download page.)

The revamped F&L looks fine in most of the newer browsers -- although there's now a font size issue in Explorer and Opera, and a fairly noticeable image placement situation with Firefox and the rest.

And, of course, it's totally broken in Netscape 4.7.

We're beginning to suspect that the fault is not in our wysiwyg editors, but in ourselves.

Until we figure things out, which will likely be never, we hope you Explorer types (which, last we heard, is still the majority of you) are mostly here for the art, and will simply text zoom if you have to.

For the rest of you (Firefox, Safari, Camino, etc.), if you're experiencing that little image displacement glitch on our Shop pages, just hit reload after the page has finished loading, and the box should pop into its rightful place. Don't ask us why.

And if you're using Netscape 4.7 (and probably other earlier browsers as well), and you can read this, we're sorry.







10/24/06 -- It's that time of year, kids -- All Hallows Eve, yes...but we we're thinking more along the lines of election season. Or as we like to call it, "War of the Gargantuas".

WotG, if memory serves (and if it doesn't, we'll be hearing from Godzilla historians shortly), was yet another of those big monster Toho productions in which guys in floppy rubber suits flail ineffectually at each other, and pretty much level an entire country in the process.

So, you get where we're going with our metaphor.

Like the candidate who doesn't put much stock in polls because, you know, he's getting creamed in them, we've never worried about awards, since people don't give them to us.

And they shouldn't, because that would only encourage us -- and isn't the culture in bad enough shape as it is?

But if you hang around long enough (and we've probably overstayed our welcome by a good decade or two), sooner or later there's a massive lapse in judgement, and you find yourself formally lauded. Now we're wondering if Bed & Bondage might be eligible for an Eisner...

After the (and we mean this in the nicest way possible) massive, all-devouring human locust swarm that was San Diego, Dragon*Con was just a quiet little get-together with 25,000 like-minded individuals.

Fellow Artist's Alley denizen, comic art immortal and kindred spirit (in the same sense that Helen Mirren and Jessica Simpson are both "actors") Al Feldstein stopped by Rich's table, and had a quick look at the F&L originals portfolio. Rich shook his hand, but was unable to siphon any talent out of the EC legend. Or any vitality: Al looks better today than Rich did even during those two weeks in the mid seventies when he was actually healthy.






8/22/06 -- Twelve new Gallery images and 18 new Originals for your delectification. If that's a word.

Each is a party out of bounds in its own way, so if ever a match was made in heaven, it would be Dragon*Con and our just-released Bed & Bondage. Rich will shamble into Atlanta over Labor Day weekend with minty fresh copies.

When it's your turn to guard the cave and you had a few too many fermented berries the night before, sometimes you're in such a hurry and so hung over, you forget your loin cloth. Or so it would seem in this retooling of a plate from our b&w portfolio, Clan of the Claw.





6/15/06 -- And, we're back again.

Another six months without an update may have had you referring to us as "the late, not-particularly-lamented F&L"--but we were merely sequesterized with some very important commissions and two eagerly anticipated (by our creditors, at least) new books. We firmly believe the creation of Art must take precedence over Self-Promotion. Or to put it another way: no product = no money = no electricity = no web pages of any kind--new or otherwise.

Beating the equation metaphor right into the ground, summertime = vacations = hitting the road, so when you pack the kids, dog and plans for intergalactic domination into the matter-antimatter RV, don't forget to hit MapQuest with your itinerary. Then, as sure as C114304B is two white dwarfs and a hard left past the VonKrupklopf Singularity, you're going to be stopping and asking for directions--so try to make it part of the adventure!




Requiring as it does only nanoseconds of your time and about one of your brain cells, we believe you'll find BattleHookers of Klarn, from which the above scene is excerpted, to be the perfect light summer reading experience. You'll find it, and 36-or-so more pages of high calorie, low nutrition entertainment in our Little Black Book 3. And look for the image itself--in all its heavy-clay-coated-stock glory--in the next edition of the indispensable annual fantasy art compendium that is Spectrum (#13, coming this fall).





1/27/06 -- The jury may still be out on global warming, but let's face it: Wendigo sightings are down all over.

It's been an unusually mild winter so far here on the frozen tundra, and it must have been pretty temperate on whatever nightmarish ice planet this particular F&L damsel found herself, judging by her attire. Way back when we did this image for the Darkeworld portfolio, we were making the occasional half-hearted attempt at having our heroines dress for the weather. Now we just explain that they have really fast metabolisms.

We've never been involved with Heavy Metal (the magazine), but we have made a handful of graphic contributions to speed metal (the musical genre). Our News page has a bit of info.

And while you're there, allow us to update you on the latest F&L projects, as well as the odd convention appearance.




10.23.05 -- Frost is the kind of hero who shoots first, shoots second, and then--if your useless thug corpse is still begging for mercy--stands over you and keeps shooting until he's sure you're no longer wasting his oxygen.

We read the Frost stories in preparation for doing a private commission. If the Shadow hasn't quite slaked your thirst for tales of bloody retribution, we urge you to check out Donald Wandrei's less well known but equally implacable avenger.

If you're looking for fantasy babes who never seem to dress for the weather, why not visit our just-added gallery and originals pages? Twelve new images await your perusal on each.

For a preview of F&L's next book, which we're smack in the middle of right now, hie yourself over to our news page, where we'll show you as much as our pathologically secretive publishers will allow.




8.23.05 -- If you accidentally (or otherwise) spilled coffee on your copy of Little Black Book 3, check this out.






6.17.05 -- And...we're back.

F&L World Headquarters is now on the other side of the Mississippi, and several thousand feet closer to our publishers on the East Coast (who've been keeping us busy enough that our website has been on its own for many weeks). More on the news page.


1.8.05 -- Twelve new images added to our gallery.






12.17.04 -- Just added: news updates and 12 new originals.






This is the official Fastner & Larson website. If you're a fan of fantasy babe art, you may very well have come to the right place.

We're an airbrush artist (Steve Fastner), a penciler (Rich Larson), and a crazy dream (mostly involving lusty wenches in and out of strange situations and their clothing--kids: move along! There's nothing for you here).

We're running this little flea circus ourselves; don't be too hard on us until we figure out what we're doing.

Those of you familiar with our work pretty much know what to expect. We hope you'll find one or two things here you haven't seen before.

If you're only vaguely aware of (and only mildly curious about) what we do, here's an opportunity to steep yourself in the Fastner & Larson Experience--without spending a dime!

The vast majority of you may simply be looking for things to attach things to other things (it's "Fastner", unfortunately, not "Fastener").

By all means, stay and check us out--but again: this site is filled with images of scantily-clad fantasy babes, monsters, and stuff you might find on a Desperately Lurid Pulp Tales cover--only less tastefully done. Those sensitive of nature may wish to re-Google.

--Steve & Rich