View the above image in its entirety. End of Story was the back cover to the first volume of

Little Black Book

. Steve moistened and tenderized the background of this version in Photoshop.


5.18.18--If you're as oblivious to the zeitgeist as we are, or if you just enjoy walking around on the razor's edge, fashion statement-wise, we have two new t-shirt designs that might intrigue you.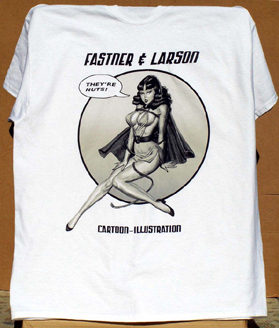 "They're Nuts!" features our rendition of a certain perennially popular, minimally clothed super-heroine/bondage enthusiast, gleefully announcing our mental instability to the world.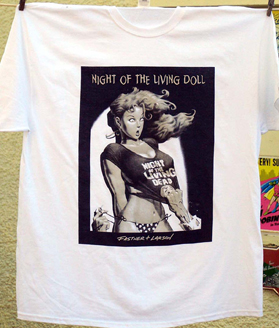 "Living Doll" turns the exploitation knob to 11 with a scintilating mashup of the two things this culture just can't seem to let go of, sexual harrassment and zombies.

Both designs are available on a 100% cotton white t-shirt, in size XL only.

The price is $20 per shirt; shipping via Priority Mail is $5.

Contact us to order yours, and get ready to start a dialog that will consist mostly of other people screaming at you.



9.15.16--Our latest collection,

Sexy Dreams

is here. Also, Pocket Pal Vol.6.

9.14.15--Fifteen new originals, including a nice Spidey study, and three entirely inauthentic Egyptian scenarios.



12.20.10--Six new originals available for purchase.



6.3.09--Five new pages of available prints.




1.25.09--Twelve newly available originals, including the cover for Bed & Bondage Vol.1, and a rather large Teenage Mutant Ninja Turtles painting.

Also, Pocket Pal Vol I, Tricks & Treats and B&B2 are now officially available from us.

5.7.08--We've added a page of original color pencil studies by Steve, and pencil drawings by Rich.

8.15.06--Use the numbers under Adolf in the image above to visit our other originals and prints pages.

Ordering stuff from the F&L Shop is more involved than you'd hope, since we're not set up to accept orders onsite. Still, a rudimentary form of commerce can occur. Here's how it works, if you'd like to give it a shot.

How to order: Insufferable luddites that we are, we don't have an official shopping cart/checkout setup. However, if you email us with the titles you wish to purchase, we'll get right back to you with the total cost, including shipping.

We ship within the US via Priority Mail with Delivery Confirmation, and combine shipments whenever possible. Usually any combination of up to 5 books, prints and/or small (8.5" X 11") originals are shippable for the same amount as a single item -- $5.

We also welcome international orders, which we ship via Priority Mail International. Please email us for details.

How to pay: We're now able to accept Paypal for most purchases, but the process is just a little more involved than you'd hope.

Since we don't have an official e-commerce setup, you still have to email us with the items you want to purchase.

We'll then send you an official Paypal request for payment. Paypal will notify us when your payment is made, and we'll ship your purchase right away.

We can also accept personal checks, traveler's checks, postal and bank money orders, and cashier's checks. If you're crazy enough to send cash, at least protect yourself with some form of delivery confirmation.

For original art, books and prints:

1--Email us your name, address and order. We'll email you (usually within a day or so) to confirm availability and give you a total price, including shipping & handling.

2--Make your check, money order or traveler's check for the total amount payable to Steve Fastner. Update: see How to Pay above to use Paypal.

3--Print out your email (or write the info on a sheet of paper).

4--Send it and your payment to:

Shop

c/o Fastner & Larson

3112 Holmes Avenue

Minneapolis, MN 55408




For commissions, which we love:

1--Email us. This kind of thing usually takes some back-and-forth, which we're happy to engage in.

Tell us what you might be interested in ("Vampirella being fondled by a Ghoul", for example. Or something inspired by one of our existing images. Or something entirely different.)

We'll get right back to you with the info you'll need to decide how (or if) you want us to go forward with your idea.

Remember, fantasy babes are our especiality, so don't be shy.



Feel free to get in touch any time with any questions. We check our email a couple of times a day, and we're usually in here at F&L World Headquarters until the wee small hours. Our email address is for general correspondence:

Our postal address is:

Fastner & Larson

3112 Holmes Avenue


Minneapolis, MN 55408